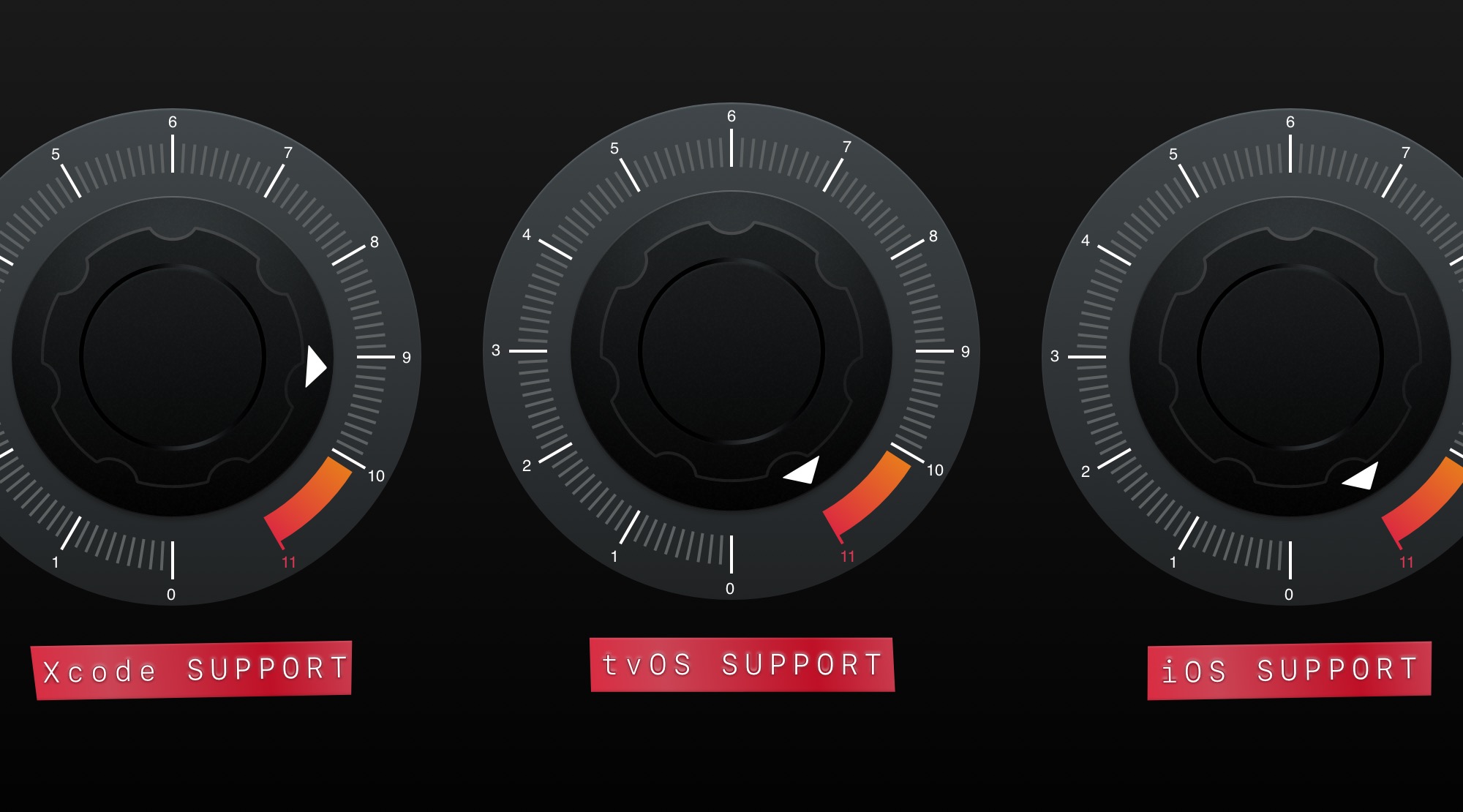 This one goes all the way to eleven
A new release of Reveal (v11) is available to all users with a current license, and as a 14-day trial.
We've turned the dials to eleven with this release - just in time for Apple's big round of releases: Reveal now supports tvOS 11, iOS 11 and Xcode 9.
We've gone through and added support for over 35 new inspectable properties, including:
CALayer
MKMapView

region
centerCoordinate
visibleMapRect
showsCompass
showsScale
showsTraffic

UIAccessibilityContentSizeCategoryImageAdjusting (conformed to by UIButton, UIImageView)

adjustsImageSizeForAccessibilityContentSizeCategory

UIApplication

alternateIconName
supportsAlternateIcons

UIBarPositioning (conformed to by UINavigationBar, UISearchBar, UIToolbar)
UICollectionView

dragInteractionEnabled
hasUncommittedUpdates
reorderingCadence

UIContentSizeCategoryAdjusting (conformed to by UITextField, UITextLabel, UITextView)

adjustsFontForContentSizeCategory

UIImageView

masksFocusEffectToContents

UIScreen
UISegmentedControl
UIScrollView

contentInsetAdjustmentBehavior
adjustedContentInset
indexDisplayMode

UISpringLoadedInteractionSupporting (conformed to by UIButton, UISegmentedControl, UICollectionView)
UITableView

separatorInsetReference
insetsContentViewsToSafeArea

UITextDraggable (conformed to by UITextField, UITextView)

textDragActive
textDropActive
textDragOptions

UITextInputTraits (conformed to by UISearchBar, UITextField, UITextView)

smartQuotesType
smartDashesType
smartInsertDeleteType

UIView

accessibilityContainerType
accessibilityIgnoresInvertColors
directionalLayoutMargins
insetsLayoutMarginsFromSafeArea
safeAreaInsets
We've also improved a couple of the property inspectors:
Bit mask options are now presented as checkboxes for types such as UIViewAutoresizing.
An improved representation for CGAffineTransform properties.
I hope you enjoy the improvements we've made! If there are any additional properties that you'd like to see us support, please start a discussion about it in our support forum.
Minimum System Requirements
macOS 10.11
iOS 8
tvOS 9
Xcode 7.3
Support
Please report any problems you experience or give us feedback from within Reveal (see "Help → Submit Feedback"), or via our support forum.